MS Artemis
From SpottingWorld, the Hub for the SpottingWorld network...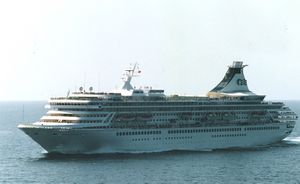 MS Artemis (previously Royal Princess), is a cruise ship of the P&O Cruises fleet. The ship was built by Wärtsilä at the Helsinki New Shipyard in Helsinki, Finland. At 45,000 tonnes, Artemis is the smallest of seven ships currently in service with P&O Cruises. She officially entered service with the company in June 2005 and was named by Prunella Scales. [4]
Overview
Artemis is currently the smallest ship in the P&O cruises fleet. However on 22nd September 2009 it was announced that she has been sold to Artania Shipping and will leave the P&O fleet in April 2011.[5]
In 2010 the British woman Sarah Breton took charge of Artemis, becoming only the second female in the world to captain a major cruiseliner and the first for P&O, following the Swedish woman Karin Stahre Janson, who took charge of MS Monarch of the Seas of Royal Caribbean Cruises in 2007.[6][7]
History
She was built in 1984 for Princess Cruises as Royal Princess, and inaugurated by Diana, Princess of Wales, at Southampton in 1984. She was transferred to the P&O fleet in April 2005 and renamed Artemis by Prunella Scales. Artemis is one of the few cruise ships that do not to have any inside cabins. On 22 September 2009, after numerous rumours, it was announced by P&O Cruises that the ship has been sold to Artania Shipping for an undisclosed sum of money. Although the sale is expected to be completed by 6th October 2009, she will continue to sail for P&O Cruises until she returns from her world cruise on 12th April 2011, when she will be passed to Phoenix-Reisen as mv Artania. [5] [8]
On board
8 passenger decks
594 passenger cabins
4 bars
2 restaurants
1 show lounge
2 outdoor swimming pools
Child free
All outside staterooms and above (no inside)
References
External links

Wikimedia Commons
has media related to:
[[Commons: Category:MS Artemis
| MS Artemis
]]
de:Artemis (1984) fr:Artemis (navire de croisière) no:MS «Artemis» [1]