RMS Majestic (1914)
From SpottingWorld, the Hub for the SpottingWorld network...
300px
RMS Majestic, 1922
Career (Germany)
Kaiserliche Marine Jack
1912-1920
Name:
SS Bismarck
RMS Majestic
Builder:
Blohm & Voss
Laid down:
1913
Launched:
20 June 1914
Fate:
turned over 1920 as compensation for sinking of RMS Britannic
Career (UK)
British Blue Ensign
1920-1940
Name:
RMS Majestic
Operator:
White Star Line
Maiden voyage:
12 May 1922
Renamed:
HMS Caledonia (23 April 1937)
Fate:
Caught fire and sank in Rosyth, Scotland on 29 September 1940 and scrapped in 1943
Status:
Scrapped
General characteristics
Tonnage:
56,551 gross tons
Length:
955.8 ft (291.3 m)
Beam:
100.1 ft (30.5 m)
Speed:
23.5 knots
Capacity:
2,145 passengers:
750 first class
545 second class
850 third class
RMS Majestic, launched in 1914 as SS Bismarck, was, at 56,551 gross tonnage, the largest ship in the world until the completion of the SS Normandie in 1935. Originally slated to be the third and largest member of German HAPAG Line's trio of transatlantic liners, her completion was delayed by World War I. Following the war, she became the White Star Line flagship Majestic. This was the second White Star ship to use the name, the first being SS Majestic (1890). After her White Star career, she served the Royal Navy as the training ship HMS Caledonia.
Construction and handover
Bismarck was built by the Blohm & Voss shipbuilders in Hamburg, Germany and was launched on 20 June 1914 by Countess Hanna von Bismarck, the granddaughter of the 19th century German Chancellor Otto von Bismarck. The ship was to have been the flagship of the Hamburg America Line and the final of Albert Ballin's "Big Three" (Imperator, which later became RMS Berengaria, and Vaterland, which later became the SS Leviathan). Interestingly, she was to have been the same size as Vaterland, in both tonnage and length, but a miscommunication that Cunard's Aquitania would be larger made HAPAG demand an extra six feet in length, increasing her gross tonnage. Of course, Blohm & Voss were quite upset when they found out that the extra work that went into Bismarck was for nothing, as Aquitania was a full 50 feet shorter than both Vaterland and Bismarck. However, First World War was to completely alter the ship's fate, and she never sailed under the German flag except on her sea trials in 1922. After being ceded to Britain under the terms of the Treaty of Versailles, the as-yet uncompleted ship was purchased jointly by the White Star and Cunard Lines, together with Imperator. The two ships remained jointly owned until 1932, when Cunard terminated the joint ownership agreement.[1]
However, the ship's handover went far from smoothly. Furious at being forced to complete the ship for British owners, the shipbuilders completed the ship in the colours of the Hamburg-America Line and with the name Bismarck painted on her bow and stern. The workers even used the captain's cabin (White Star Line's Bertram Fox Hayes) as a storage closet.
Career history
The ship served as the flagship of the White Star Line from 1922 until 1934. After her May 1922 maiden voyage Majestic became one of the most popular liners afloat and in 1923 she carried more passengers than any other Atlantic liner. In 1924, 1926, 1928 and 1930 she carried more passengers than her sister ships. She earned the affectionate nickname 'Magic Stick'.
Due to a structural defect in her topsides, Majestic suffered a 100-foot crack in December 1924 and underwent permanent repairs and strengthening along B-deck before returning to service in April 1925. Small cracks were also noted on her sister Leviathan around the same time, but only minor repairs were carried out and she developed a similar 100-foot crack five years later.
In 1925, she completed an eastbound crossing at 25 knots, which was the fastest she ever managed, and faster than either of her sisters' best efforts. However, her older sister Leviathan often had a slightly higher average speed each year than Majestic.
In 1928, Majestic was extensively refitted and modernised and enjoyed a boom year for passenger lists, but numbers fell slightly in 1929 and then the Great Depression set in by 1930.
In 1934 in the North Atlantic an enormous wave smashed over the bridge of the RMS Majestic, injuring the first officer and White Star's final commodore, Edgar J. Trant, who was hospitalised for a month and never sailed again.
Following the merger ofthe White Star- and Cunard Lines in 1934, Majestic served the new company until 1936.[2] In 1935, it was announced that her sister Berengaria would be retired first after several fires aboard caused by the original wiring and Cunard arguing with the American Board Of Trade who stated that the ship was no longer fit for American travellers, but the decision was reversed and Majestic was retired instead.
HMS Caledonia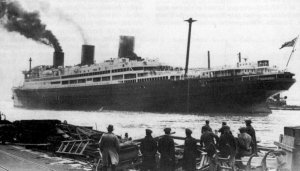 After being laid up at Southampton, she was sold on 15 May 1936 for scrap to TW Ward. However, due to a stipulation in her original agreement of being a prize of war handed over to the White Star Line as compensation for lost tonnage, she could not be sold to the Admiralty, so an exchange was set up where the shipbreakers were given 24 outmoded destroyers as compensation for the equivalent scrap value of Majestic. In July 1936 the ship was converted into a Cadet training ship and renamed HMS Caledonia.
The conversion of Majestic was undertaken at Southampton and comprised the shortening of her masts and funnels so that she could pass beneath the Forth Railway Bridge and a reduction in the number of lifeboats.
On 8 April 1937, Caledonia departed Southampton for her new base in Rosyth and was commissioned on 23 April 1937, with a capacity of 1,500 cadets.
After the outbreak of World War II, the cadets were removed to accommodation ashore and the ship's berth was emptied for Naval use, Caledonia being temporarily anchored in the Firth of Forth pending a decision as to her disposal.
On 29 September 1939, Caledonia caught fire and burnt out, sinking at her moorings. The wreck was sold in March 1940 to Thomas W. Ward for scrap, but it was not until 17 July 1943, that the hulk of Caledonia was raised and towed to the scrapyard.
Postcard Majestic liner.jpg

RMS Majestic's Swimming Pool 1922.JPG

Swimming pool on board the RMS Majestic circa 1922
References
Further reading
Daniel, Hawthorne (August 1922). "Down To The Sea In Ships". The World's Work: A History of Our Time XLIV: 415–424. http://books.google.com/books?id=ZW0AAAAAYAAJ&pg=RA2-PA415

. Retrieved 2009-08-04

.

 

Fox, Robert, Liners, the Golden Age, 1999, Könemann
McAuley, Robert, The Liners, 1997, Boxtree
Miller, William H. Jr., The First Great Ocean Liners in Photographs, 1984, Dover
External links
de:Majestic (1922) es:RMS Majestic (1914) fr:RMS Majestic (1922) gl:RMS Majestic (1914) nl:RMS Majestic pl:RMS Majestic ru:Маджестик (лайнер) fi:RMS Majestic