Pocket cruiser
From SpottingWorld, the Hub for the SpottingWorld network...
A pocket cruiser, microcruiser, trailer sailer or pocket yacht is a small lightweight sailboat with a cabin, designed for recreational cruising. Pocket cruisers can be readily loaded on a trailer and towed by most passenger automobiles. Both commercially made and designs for home built pocket cruisers are available. In spite of its name, this type of vessel is completely unrelated to the pocket battleship.
Description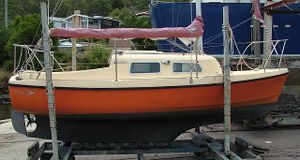 Pocket cruisers range in length from 10 feet (3 m) to about 26 feet (8 m), with some variation, depending on individual requirements. Most are in the range of 15 feet (5 m) to 20 feet (6 m) long, with a beam around 6 feet (2 m). Commercial models generally have either a short, ballasted shoal draft keel or a weighted centerboard, while home-built designs often use water ballast and leeboards. The short length and low weight of most pocket cruisers (and short keels on models with fixed keels) allow them to be trailered easily.
While the short overall length keeps most of these boats to inland waters or onshore sailing, many have keels or other forms of ballast (often water ballast) that allow them to be self-righting from angles of 90 degrees or more, which is usually not the case for similarly sized day sailers. Many people have sailed pocket cruisers long distances across open ocean, including a number of Atlantic crossings. There has been at least one circumnavigation of the globe by a pocket cruiser[citation needed].
The cabin also makes it possible to keep the pocket cruiser out for extended periods of time. They will generally provide enough space to sleep two adults, with the larger examples sleeping up to six--though at that point two of the berths are generally under the cockpit seats (and known as "quarter berths" and are often only suited for children. The ability to sleep aboard makes weekend outings popular.
Qualities
Pocket cruisers are popular for a number of reasons:
They are inexpensive; popular designs such as the Montgomery 15 or West Wight Potter 15 sell new, with trailer, for around US$10,000 or less.
They are easy to build out of easily obtained materials such as plywood, using stitch and glue or more traditional methods.
When working on smaller boats the inevitable tinkering away on various modification projects is often cheaper and more quickly gratifying.
They are small enough to sail single handed, yet the wide beam gives them the capacity to hold more people.
They usually weigh less than 2000 pounds (900 kg). This is light enough to be towed behind most cars.
They are suitable for overnight trips.
The wide beam and common use of ballast makes them very stable.
The small size means they can be stored out of the water, which negates the need to rent expensive marina slips.
Many of the small cruisers have active chat groups on the Web where tips, ideas, and sailing stories are freely shared.
Performance
Pocket cruisers are, in general, not fast boats; the short waterline and wide beam required to provide the basic accommodations generally limit the speed that the hulls are capable of. Since the short, beamy hull of the pocket cruiser is not suited to speed, designers are willing to sacrifice some performance for ease of use. Traditional rigs, like gaff rigs, are not uncommon, compared to the nearly universal high aspect Bermuda rigs found on other modern sailboats. The lower aspect rigs lose some windward abilities, but make up for it in superior downwind performance and ease of use. The West Wight Potter 15, for example, uses a unique sail design that is a cross between a gaff sail and a Bermuda sail, which gives it more sail area on a shorter mast than would be possible with a true Bermuda sail; this gives a greater sail area with less heeling force than a taller, narrower sail. Still, it is not a performance craft, as evidenced by the fact that it has the lowest Portsmouth handicap (138.1) of any production centerboard boat listed. The Sunfish, which is by far the most popular day sailer ever made, has a Portsmouth handicap of 99.6. This means that the Potter 15 would take nearly 1.4 hours to sail the same distance under the same conditions as a Sunfish could in 1 hour.
Pocket Cruisers, though not generally considered especially fast compared to longer waterline boats, however are still quite exciting to sail much in the same sense that a go cart "feels" faster when riding on it as compared to a longer wheelbase automobile going the same speed. Closeness to the water, smaller relative size compared to the wave height, and (as is in the case of some trailer sailors) a lighter ballast to dispacement ratio can combine to make for a thrilling sailing experience nonetheless. Some selected small cruisers are designed with flat profiled aft bottom sections and are capable of actually coming up on a plane in breezy to marginal wind conditions in which specific case they may become (if briefly) quite fast indeed even when directly compared to somewhat longer displacement hulls under the same conditions.
Examples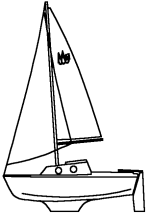 One of the smaller commercial pocket cruisers was the Guppy 13, made by Melen Marine Ltd. in California. They made about 300 of them in the period between 1974 and 1975. The Guppy was a fiberglass boat with a shoal draft keel, and would sleep 2 adults in a 6 ft 8 in (2.0 m) cabin. Overall length was 12 ft 6 in (3.8 m), beam was 5 ft 7 in (1.7 m); displacement was 480 lb (218 kg) with 150 lb (68 kg) of ballast in the keel. It drew 1 ft 7 in (480 mm) empty, and flew a Bermuda rig consisting of a 32 square feet (3 m²) high aspect main sail and a 48 square feet (4.5 m²) jib (technically a genoa since it overlapped the main). Length at waterline was 11 ft 10 in (3.6 m), giving a hull speed of just under 4.5 knots (8 km/h). The shallow V hull was not designed to plane, but is generally considered very capable at cutting through choppy water.
In Australia, the best known and most popular pocket cruiser is the locally produced Savage Nautilus, a shoal draft yacht of 19 ft 4 in length overall with a 7 ft 10 in beam and a full length keel that draws only 2 ft 9 in. Fitted with an 8 hp Yanmar diesel inboard motor (an unusual feature in a boat so small) and capable of sleeping four adults, they were produced in large numbers and have proved incredibly popular with Australian pocket cruising enthusiasts. Loosely based on a lifeboat design, they are sufficiently stable and heavily constructed to sail offshore and some have made long distance blue water crossings, such as the notorious waters of Bass Strait, between mainland Australia and the island state of Tasmania (including the pictured example, "Bullwinkle", which was sailed from Brisbane to Hobart).
See also
External links