Hilbre One Design
From SpottingWorld, the Hub for the SpottingWorld network...
Class specification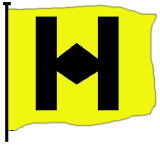 The Hilbre One Design is a racing keelboat built to a strict design specification and raced at West Kirby Sailing Club in north west England. A class rule means all boats have names beginning with "Hi..."
The class is named after an island in the mouth of the river Dee and was designed by Alan Buchanan. To date there have been 56 built. The first boat was completed in 1958 but most of the 56 examples built were constructed between 1960 and 1963. Boats are built of wood, with a clinker built hull which is 19 feet 9 inches long. Their draught is 4ft 5in with their centre plate lowered, and 1ft 7in with it raised. This allows the boats to dry out safely on their moorings on the open waters of the Dee. Boats carry on overlapping genoa as well as a smaller No1 jib and a spinnaker. Class rules permit windows in these sails, and currently permit three official sailmakers: North Sails, Speed Sails & Pinnel and Bax. The Hilbre has a small cabin, which allows the boats to be used for day sailing as well as racing: Hilbres have crossed from the Dee to the Menai Strait and back many times, with the fastest trip reported as seven hours. Class rules stipulate a minimum of three crew when racing, although the boat can be sailed single-handed at a pinch, and benefits from having four crew in strong winds.
Like all wooden boats, Hilbres need regular maintenance in the winter. This is carried out in the boat sheds at West Kirby Sailing Club. The club also offers class racing at including team and match racing. Hilbres also have their own starts at local Wirral regattas and at the Menai Strait regattas fortnight in Anglesey during the beginning of August.
The Hilbre class association endeavours to keep boats sailing locally and currently owns 3 boats which are all in a good state of repair. These are available for sale or possible lease to sailors who want to sail and race on the Dee. Hipparcus built in 1966 is on display at Merseyside Maritime Museum.
Current fleet
| Number | Name | Year Built | Boat Builder | Current Status |
| --- | --- | --- | --- | --- |
| 1 | Hilbre | 1958 | | WKSC |
| 2 | Highlight | | | WKSC |
| 3 | Hilary | | | WKSC |
| 4 | Hioco | | | WKSC |
| 5 | Hirondelle | | | WKSC |
| 6 | Hie | | | WKSC |
| 7 | Highwayman | | | WKSC |
| 8 | Hiccup | | | WKSC |
| 9 | Hiawatha | | | WKSC |
| 10 | | | | |
| 11 | | | | |
| 12 | Hippo | | | WKSC |
| 13 | | | | |
| 14 | | | | |
| 15 | Hiro | | | |
| 16 | | | | |
| 17 | Hilsa | | | WKSC |
| 18 | Hijinx | | | WKSC |
| 19 | Hilarity | | | WKSC |
| 20 | Hilda | | | WKSC |
| 21 | | | | |
| 22 | | | | |
| 23 | Hi-Falutin | | | WKSC |
| 24 | Hibiscus | | | Sunk |
| 25 | | | | |
| 26 | | | | |
| 27 | Hicotee | | | WKSC |
| 28 | | | | |
| 29 | Hither | | | WKSC |
| 30 | | | | |
| 31 | Hi Sheriff | | | WKSC |
| 32 | | | | |
| 33 | | | | |
| 34 | Hi Fi | | | WKSC |
| 35 | Hilo | | | Wrecked |
| 36 | | | | |
| 37 | | | | |
| 38 | Hinemoa | | | WKSC |
| 39 | | | | |
| 40 | | | | |
| 41 | Highcrest | | | Wrecked |
| 42 | | | | |
| 43 | | | | |
| 44 | | | | |
| 45 | | | | |
| 46 | Hi C | | | WKSC |
| 47 | Highland Piper | | | WKSC |
| 48 | Hi Di Hi | | | WKSC |
| 49 | | | | |
| 50 | Heulwen | | | Porthmadog |
| 51 | Hisp | | | |
| 52 | | | | |
| 53 | High Hat | | | WKSC |
| 54 | | | | |
| 55 | Hiriver | | | Sunk |
| 56 | Hiparcus | | | |
See also