Philip Rhodes
From SpottingWorld, the Hub for the SpottingWorld network...
Philip Leonard Rhodes (1895-1974) was a prolific boat and ship designer of extraordinary range, particularly known for his racing yacht and sloop designs[1]. He designed vessels from 123' motor-sailors to 7' dinghies, from hydrofoil racers to giant motor yachts. His work also included commercial and military vessels such as minesweepers and police boats. His clients ranged from Rockefellers to Sears and Roebuck. His 12 Meter class Weatherly won the America's Cup in 1962.[2]
Rhodes was born in 1895 in Thurman, Ohio. He attended MIT, graduating in 1918 in naval architecture and marine engineering.[3] He worked for the US Army Corp of Engineers during World War I. After the war he began work as a shipfitter in Lorain, Ohio. He later moved to New York where he opened a small office as a marine architect. [4]
Philip Rhodes joined the design firm of Cox & Stevens in 1934. He became head naval architect for the firm after the death of lead designer Bruno Tornroth in 1935. In 1946 the firm of Philip L. Rhodes succeeded Cox & Stevens Inc. It closed in 1974, following Rhodes's death.[3]
Rhodes 19
The Rhodes 19 is a 19 foot (6 m) long sailboat, designed by Rhodes and originally manufactured by O'Day. Currently, the Rhodes 19 is built by Stuart Marine Corp. To date, approximately 3500 of the boats have been built[1].
Available with either a fixed keel or with a retractable centerboard, it is used primarily as a day sailer or for one-design racing. The Rhodes 19 is still actively raced throughout the United States.
Rhodes 22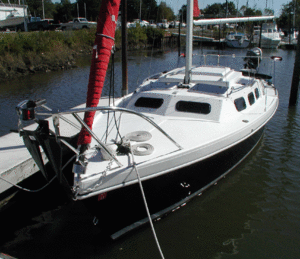 Among atypical Rhodes designs is the a Rhodes 22.[5] It is a 22-foot (6.7 m) long sailboat manufactured by General Boats in Edenton, North Carolina. The boat currently features many appointments and design elements of much larger boats and not likely to have been on the original specifications. This includes in-mast mainsail furling and a roller furling genoa, 12-volt and 120-volt electrical systems, pressure water and a holding tank for an enclosed, albeit very small, head. The current design also has positive flotation. The hull has a unique outward flare just below the hull-deck joint, that applies great buoyant power at extreme angles of heel.
Chesapeake 32
The Chesapeake 32 is a sailboat designed by Philip Rhodes and manufactured by Sanderson in Denmark from 1961-1965. Close to ninety boats were built, many are still in use today across the globe.
Other designs & ships
12 metre class yacht Weatherly, which successfully defended the America's Cup in 1962.
The "Bounty II" class sloop and yawl, which was the world's first glassfibre production yacht.
References
External links