Shields sailboat
From SpottingWorld, the Hub for the SpottingWorld network...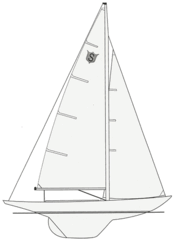 In 1963 Cornelius Shields, one of the foremost proponents of one-design sailing in the U.S. conceived of a modern followup to the International One Design. The new boat would have the balance and beauty of the IOD while incorporating modern trends such as fiberglass construction. Shields commissioned none other than Olin Stephens for the design. Over 250 have been built and many are actively raced in fleets around the U.S. Shields are sloop-rigged and usually sailed by a crew of three to five. No hiking straps are allowed, keeping athletic demands on the crew to a minimum. (Shields class web site.)
Principal dimensions: LOA 30'2" (9.19 m), DWL 20' (6.1 m), beam 6'5" (1.96 m), draft 4'9" (1.45 m), displacement 4,600 lb (2.1 t), ballast 3,080 lb (1.4 t), sail area (Main, Jib) 360 ft² (33 m²), (Spinnaker) 520 ft² (48 m²)
The Shields enjoys a strong National Association that organizes annual championship regattas.[1] There are active fleets welcoming sailors across the country, including Newport, RI, Chicago, IL and Monterey, CA. [2] [3]
References