Catalina 22
From SpottingWorld, the Hub for the SpottingWorld network...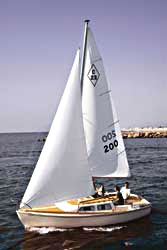 The Catalina 22 is a popular sailboat produced by Catalina Yachts. Its hull measures 21 foot 6 inches (6.55 m), which is rounded up to 22 feet (6.7 m) for use in the model's name. First produced in 1968, it is one of the longest continuously produced sailboats in the world.[citation needed]
As of 2007, there have been three historical revisions:
The original (mkI) design, produced from 1969 to 1995, with over 15,000 built.
The Mark II (mkII) design, produced from 1995 to current.
The Sport design, a racing variant, produced from 2004 to current.
It has been made most commonly in Swing Keel, Fin Keel, and Wing Keel. The boats are able to be trailered and are designed for long ocean passages. The boat is one of five charter members to Sailboat Hall of Fame.
Specifications
Length Overall
21' - 6"
Beam
7' - 8"
Length Waterline
19' - 4"
Draft
Swing Keel Board Up
Swing Keel Board Down
Fin Keel
Wing Keel

2' - 0"
5' - 0"
3' - 6"
2' - 6"
Ballast
Swing Keel
Fixed Keel

550 lb
800 lb
Displacement
Swing Keel
Fixed Keel


2250 lb
2490 lb
Mast To Waterline

29.1 ft




Water Tank Capacity
Portable
Fuel Tank
Capacity for 6 Gallon Portable
Holding Tank
Self Containing Head
Berths
Sleeps (4) very good friends
Height On Cradle
8' - 9"
Head Room
Pop Top Up
Pop Top Down

5' - 7"
4' - 4"
Sails
Standard (Main, Jib, Genoa)
Rig Dimensions for MK1, MK2 and Sport: "I"=25.83ft "J"=8.00ft "P"=21.00ft "E"=9.66ft
See also
Notes and references
Keel cable replacement
Keel cable consists of the following:
10 feet (3.0 m) of 3/16" 7X19 stainless steel cable with a roll swaged fork at the end. Fork is for 3/16" cable with a 0.313" hole for clevis pin with an inside fork span of 0.26".
Winch pawl replacement
The spring that provides tension for the clutch on the Keel winch can be obtained as follows:
| Manufacturer / Model | Pawl Kit SKU | Source |
| --- | --- | --- |
| Fulton 560 | 6731s00 | Phone factory at 715-693-9222 |
External links