German Frers
From SpottingWorld, the Hub for the SpottingWorld network...
Germán Frers (born July 4, 1941 in Argentina) is a naval architect renowned for designing successful racing yachts. He designed his first yacht in 1958. There is a design team consisting of Germán Frers and his son, also named Germán Frers, supported by a team of engineers, architects and designers, some of whom have been with the company for more than 25 years. The company has designed more than 1,000 yachts. The designs range from exotic super yachts to no-nonsense racing hulls.
Yachts designed by the Frers team have won many different yachting events around the world including: the Admiral's Cup, Onion Patch, Bermuda Race, Transpacific, Whitbread Round the World Race, Sardinia Cup, Buenos Aires-Rio Race, S.O.R.C. (Southern Ocean Racing Circuit), Kenwood Cup, Copa del Rey, San Francisco Big Boat Series, Giraglia Race, Settimana delle Bocche, Two Ton Cup World Championship, Martini Middle Sea Race and the Maxi World Championship.
Successful yachts designed by Frers include: Scaramouche I and II, Noryema IX and X, Recluta, Hitchhiker, Retaliation I and II, Ragamuffin IV and V, Congere, Morning Star 45', Morning Star 50', Bribon IV and V, Nitissima, Enteara, Volcano, Kodiak, Flyer, Bumblebee III and IV, Guia 2000, Boomerang, Kialoa V, Ondine VIII, Matador and Il Moro di Venezia I, II and III.
Boat designs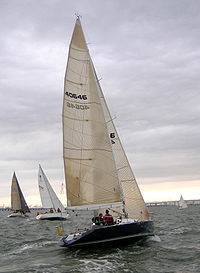 Hallberg-Rassy

Hallberg-Rassy 31 from 1992
Hallberg-Rassy 34 from 1990
Hallberg-Rassy 342 from 2005
Hallberg-Rassy 37
Hallberg-Rassy 372 from 2009
Hallberg-Rassy 39 from 1990
Hallberg-Rassy 40
Hallberg-Rassy 42 from 1991
Hallberg-Rassy 46 from 1995
Hallberg-Rassy 48
Hallberg-Rassy 53 from 1996
Hallberg-Rassy 62

Numerous Super Yachts
References
Heart of GLASS , Fiberglass Boats And The Men Who Made Them by Daniel Spurr pages 244 - 250
Best Boats to Build or Buy Ferenc Máté, Albatross Publishing House, 1982
See also