Lido 14
From SpottingWorld, the Hub for the SpottingWorld network...
Specifications Under Current Rules
| | |
| --- | --- |
| Number of crew | 2 |
| LWL | 13 ft 9 in |
| LOA | 14 ft |
| Beam | 6 ft |
| Hull weight (with fittings) | 310 lb |
| Sail Area of total of Main | 76 sq ft (7 m2) |
| Sail Area Jib | 35 sq ft (3 m2) |
| Mast height | 18 ft 7 in |
| PHRF number | 263.4 |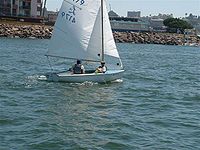 The Lido 14 dinghy was designed by W.D. "Bill" Schock, founder of W.D. Schock Corp. The first Lido 14 was delivered in early 1958 and has been continuously manufactured by W.D. Schock Corp. ever since.
The Lido 14 is a family oriented day-sailer that seats as many as 6 yet remains sporty enough to be interesting to race.
The Lido 14 was designed in response to feedback on the Lehman 14 sailboat, a boat designed and built by Barney Lehman, that was acquired by W.D. Schock through the purchase of Barney Lehman's business PlastiGlass.
The Lido 14 was an instant commercial success with approximately 200 boats ordered and built in the first year and hundreds of boats produced annually through the 1960s. By the early 1990s, annual production was very slight, leading to the introduction of an updated model, the 6000 Series, in 1995. By 1998, over 6300 Lido 14s had been built.
The original, also known as the "Classic Lido 14," and the 6000 Series Lido 14 are equal in performance and regularly race against each other.
Though not designed for racing, the Lido 14 attracted the attention of many racers and quickly became a successful one design racing sailboat throughout the United States and parts of Mexico. Continuously governed and supported by the Lido 14 Class Association, racing of Lido 14s remains very active with fleets of racers in Oregon, Washington, California, Texas, and Ohio and many individuals throughout the country.
External links