Sabot (dinghy)
From SpottingWorld, the Hub for the SpottingWorld network...
This article is about the dinghy designed by Charles McGregor. For the dinghy designed in Naples, California, see
Naples Sabot
.
The Sabot is a sailing dinghy that is sailed and raced singlehandedly usually by young sailors in various places around the world.
It is a hard-chine pram 8 feet (2.44m)in length with a maximum width of 3'11" (1.19m). The Sabot is equipped with a dagger board and a 36 square-foot (3.35 square meter) bermuda-rigged sail. It was designed by Charles McGregor and appeared in the April 1939 edition of Rudder magazine.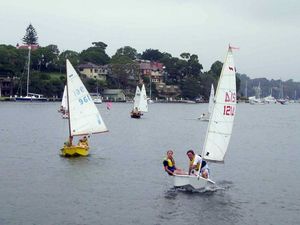 The boat was suitable for amateur production. Early models were usually made in plywood. More recent models have been made in fibreglass. Variations on the design include El Toro from the Richmond Yacht Club in San Francisco Bay Area, the "Naples Sabot" from Naples community of Long Beach, California, as well as Australian varieties, such as the Holdfast Trainer.
Learn to Sail Classes
In Australia, children may sail two-up up to and including the season they turn twelve (although often they change to one-up during that season, or even earlier) and one-up until they are 16. Unlike in the Optimist, their last season is the one in which they turn 16, not the one in which they turn 15. However, at informal club races, parents occasionally sail while the children gain confidence to do it themselves.
External links