Vanguard 15
From SpottingWorld, the Hub for the SpottingWorld network...
The Vanguard 15 is a popular one design racing dinghy (no changes to the boat) designed by Bob Ames. It is a double-handed (two person) monohull sailboat with a sloop rig (one headsail one main sail). Ideally the combined weight of the crew is between 270 and 340 lb (150 kg) and both members hike off the boat to keep it flat. Its revolutionary design allows it to plane while sailing upwind in 12 knots (22 km/h) of breeze or more.
Vanguard 15s are often organized into fleets, which hold their own regular weekly racing as well as encourage participants to sail in larger regattas. One example of an active V-15 fleet can be found at Larchmont Yacht Club. Additionally, several Intercollegiate Sailing Association programs such as UCLA Sailing (http://www.macsailing.org/Sailing/index.htm) maintain V-15 fleets. V-15s are used by many colleges racing programs on the East Coast while the CFJ remains the standard on the west and college sailing in general. Currently the US Team Racing National Championships are held each year in Vanguard 15s.
The 2008 Vanguard 15 US national championship was held July 18-20 at Larchmont Yacht Club. Danny Pletsch beat out a field of 77 boats to win the championship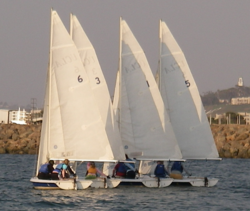 External links